The £153 million renovation of this sprawling 1,000-room, Michael Dell-owned resort is just the beginning.
Welcome to Checking In, a review series in which our editors and contributors rate the best new (and revamped) luxury hotels based on a rigorous—and occasionally tongue-in-cheek—10-point system: Each question answered "yes" gets one point. Will room service bring you caviar? Does your suite have its own butler? Does the bathroom have a bidet? Find out below.
In three words
Gargantuan. Bacchanalian. Bustling.
What's the deal?
It began life, in 1926, as The Ritz-Carlton Cloister Inn: a Spanish colonial-style, 100-room property. Almost a century (plus several owners) later and The Boca Raton is a 337-acre hospitality behemoth with more than 1,000 rooms, two 18-hole golf courses, a 50,000-square-foot spa, seven swimming pools, 30 tennis courts, a 32-slip marina, 13 restaurants and bars and 200,000 square feet of meeting space.
Those aforementioned original buildings now make up a 294-room section of the resort, "Cloister", surrounded by four more premises: effectively separate hotels. There's the 58 spacious residential-style suites which make up "Bungalows"; "Tower", which took up $45 (or around £35 million) of the resort's recent transformation (and in which I stayed); "Beach Club", whose 212 sun-basked interiors have been designed with impressive deference to their coastal location; and "Yacht Club", an adults-only bolt-hole overlooking – as hinted at by the name – this part of the world's boat-lined promenade.
Last year, the resort reopened following a $200-million (£153 million) refurb that changed the colour of "The Pink Hotel" (as locals have dubbed the original buildings for decades) to a "coastal white" (proprietors' words). Elsewhere, barrel tile roofs, archways, mosaics and ceilings have been restored, and an injection of modernity given to a grand old dame of US hospitality in the form of contemporary, locally-sourced furniture and rotating artworks, provided by the nearby Sponder Gallery. But this is just the beginning, as even more no-expense-spared upgrades are coming at a yet-unspecified future date.
It's not just the to-be-continued renovation that has ramped up The Boca Raton's appeal. Emblematic of its owners' determination to keep enhancing guest offerings is a recent deal struck with Aston Martin Lagonda, which will enable Yacht Club guests to take part in driving experiences with the world's most powerful luxury SUV – the DBX707 – and, once it rolls off the production lines later this year the DB12. "super tourer".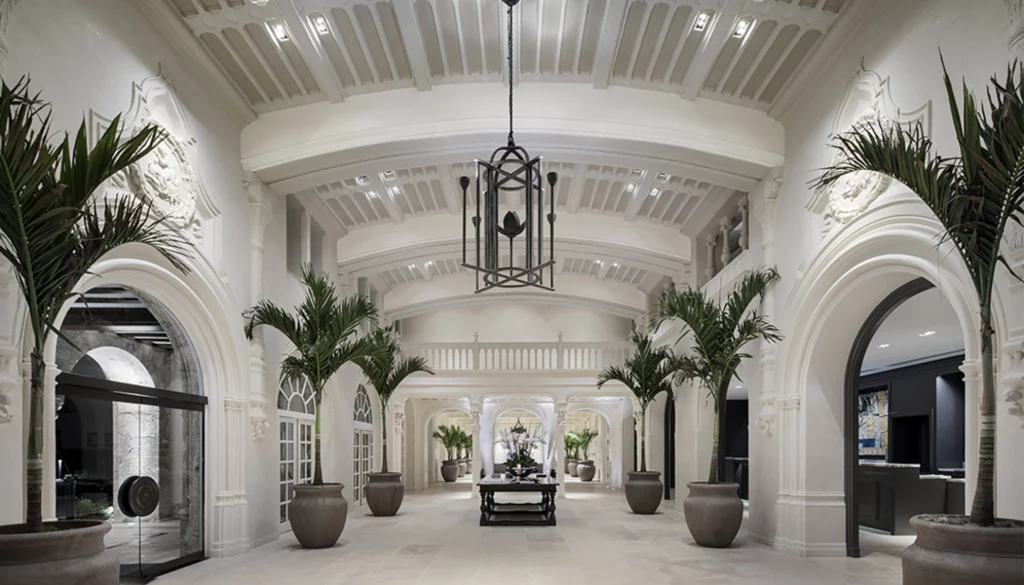 The best suite?
For now, that'd be The Tower 1 Bedroom Ocean View Suite (from £756 per night). Nestled high up within Boca Raton's tallest building, the 810-square-foot space has modern, ocean-inspired furnishings and views of the splendid homes that line Lake Boca Raton and the Atlantic beyond.
However, the jury (by which we mean the top brass) is currently out when it comes to whether Tower's turreted space at its summit – a building site at the time of writing – should become a night-spot or what would surely, with the right financial input and interior design smarts, become one of the tastiest, most decadently spacious suites on the planet.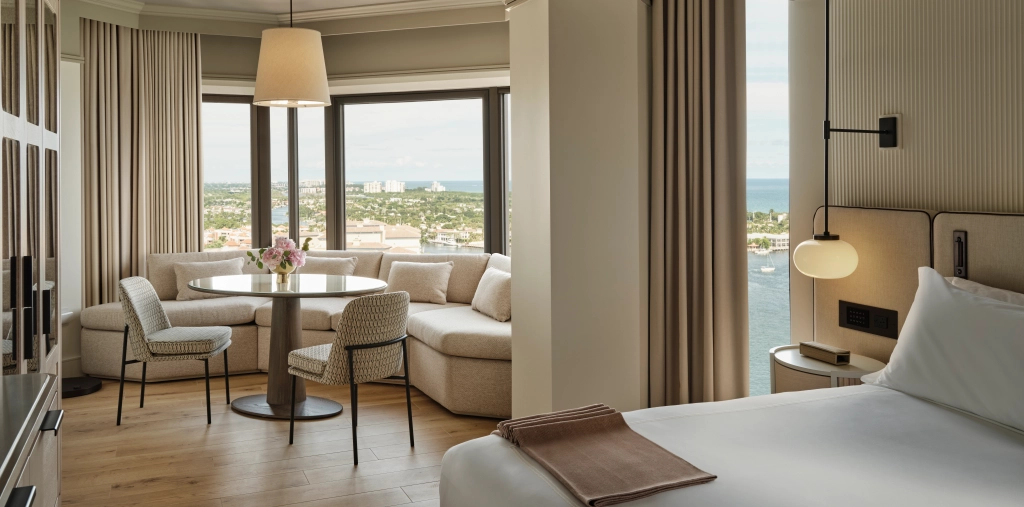 The Run Down
Greeted by name at check-in?
Yes – by several different smartly-attired staff members. Even better: a good-natured altercation broke out between porter staff when it came to who would have the pleasure of delivering my cases to room, and all staff were pleasantly – enthusiastically yet unobtrusively – attentive throughout the stay. Bonus half point!
Welcome drink ready and waiting (bonus point if it wasn't just fruit juice)?
A glass of fresh-and-fruity French cuvée was poured during the iPads-and-passports rigmarole of check-in, whilst a bottle of Californian white awaited in an ice bucket in the room. Meanwhile, the free minibar (nice gesture) included some palatable – no, distinctly moreish – bottles of a Boca Raton-branded, Belgian (but brewed locally) beer.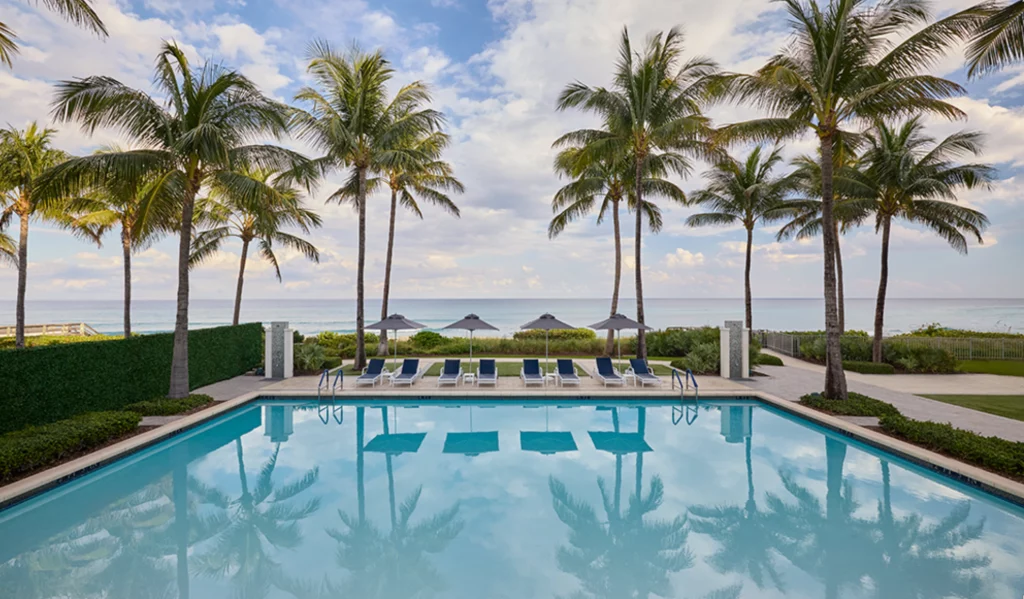 Private butler in the room?
Well, with 1,000 rooms to attend, that would require a small army (and they already employ more than 1,500). However, the Yacht Club has personal butlers (as well as a curated concierge service and exclusive access to the seasonal seafood and vegetable-forward six-course tasting menu at rooftop-based restaurant Flybridge).
Over in the Tower, two robots wearing sprayed-on butler's garb – named Johnnie and Ethel, after two pet monkeys belonging to the original hotel's eccentric architect, Addison Mizner – are frequently sent by staff into the lifts to deliver treats to junior guests.
Sheet thread count 300 or higher?
Indeed – 40 percent higher, to be exact. Matouk – which has been making high-end, sumptuously soft bed linens from its Fall River, Massachusetts production centre for just shy of a century, has provided sheets with a 500 thread count.
This, combined with powerful air-con and an increasingly rare scenario where guests can black out the room using wall switches and opposable thumbs, rather than an iPad interface straight from a NASA Mission Control Centre, makes a restorative night's sleep a given.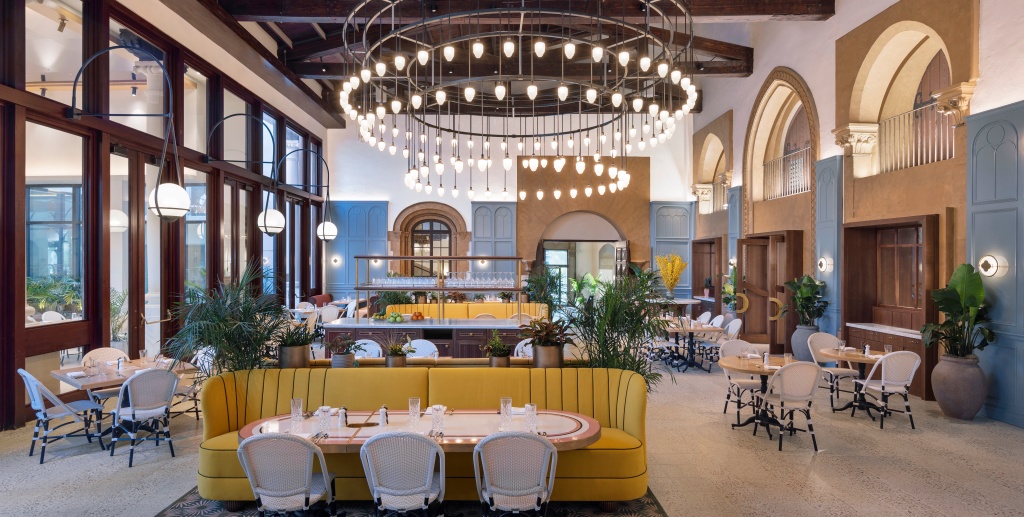 Heated floor in the bathroom or a bidet? Or both?
With Florida's temperatures (it's 30 degrees during my visit) conspiring with marble's high thermal conductivity to make the walk from carpet to shower block something of a lizard dance, the former would be redundant here.
Meanwhile, no bidet: But if we're talking watery ablutions, make sure you indulge in The Royal Bath experience in the Forbes Five-Star, 50,000-square-foot Spa Palmera (which boasts 44 treatment rooms, eye-catching mosaics, a tranquil courtyard, waterfall whirlpools and a surprisingly underused pool). An hour-long session involving knee-and-elbow scrubs, sorbet treats, herbally-infused flannel treatments and back-pummelling jets of water, it makes the "quick shower" so often squeezed between a time-poor itinerant's various engagements feel like a perfunctory, inadequate affair. Massive bonus point!
Are the toiletries full-sized?
Yes. As part of a new sustainability drive – one that also involves reusable water bottles and an option for less frequent bed linen changes – the hotel has recently replaced "personal sized" Molten Brown bath products with large, refillable bottles.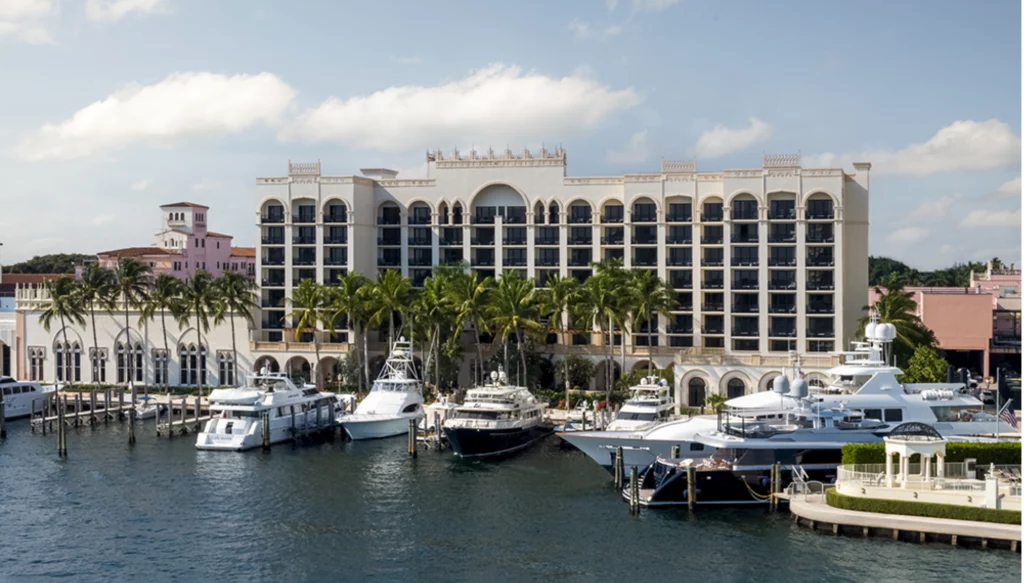 Private pool for the room's exclusive use?
No, but that would have taken some extremely nifty architectural sleight of hand, considering the number of rooms. Those who see regular dips as an integral part of a hotel stay are well catered for, though: the lakefront Harborside Pool Club has three pools, a 450-foot floating river, water slides, cabanas and butler service on hand should cocktails and light bites be order of the day.
Worth spending Friday night in the lobby bar?
Most certainly. The Palm Bar is a jazz-soundtracked, cavernous venue, packed from lunchtime onwards with patrons whose dress sense and age range militate against the idea that this locale is a centre of gravity for well-heeled retirees (a reputation for which, in part, we have Jerry Seinfeld to thank/blame).
The sommelier in charge of the entire resort – the eternally amicable John De Leo – favours a multi-regional emphasis on the world's more "aromatic" wines (his word). The spirit range is meticulously curated: think excellent whiskies from Japan (Nikka Miyagikyo, Shibu Single Grain) as well as a range of carefully selected Tennessee whiskies (it's a good sign when even the youngsters swilling JD and Coke are tasting the 'Sinatra' variation that has been aged in special grooved barrels for extra oak contact).
The signature cocktail is a delectable spicy garden gin and cucumber concoction infused with jalapeño, thyme, and elderflower.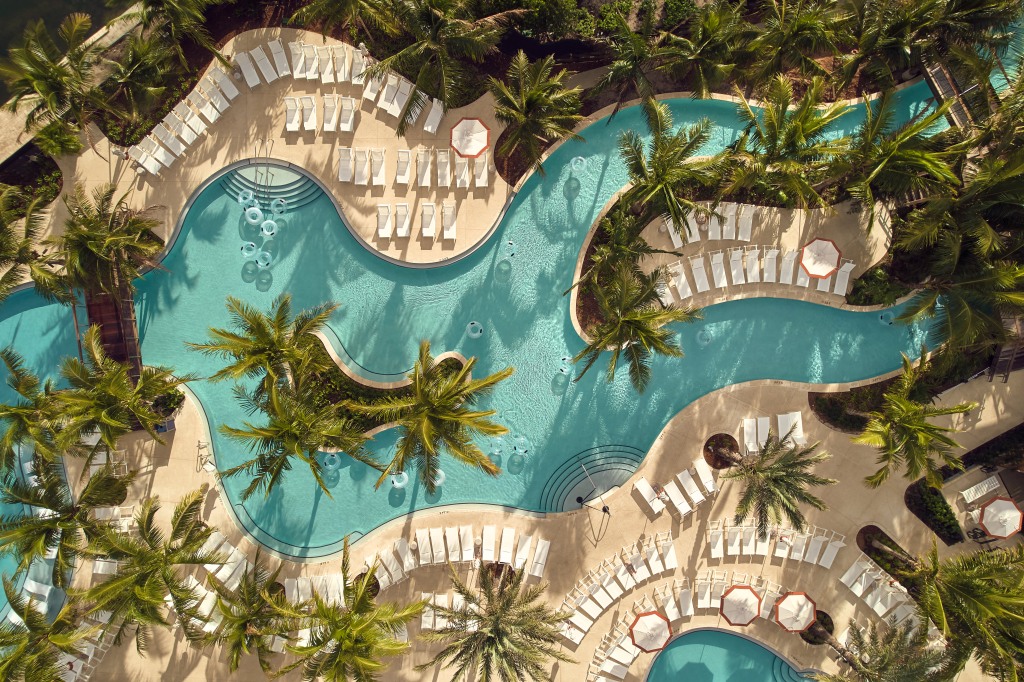 Caviar on the room service menu?
Well, no – despite such a vast array of hearty fare on a list you could stop a bullet with by folding it just twice. Having pondered the choice of soups, salads, sandwiches, mains, pizzas and desserts, I went for French onion soup with beef broth and gruyère crouton, followed by catch of the day with Tuscan white beans, Swiss chard, garlic, rosemary and orange gremolata. The phrase "spoilt for choice" has never packed such resonance.
As for the caviar need, call room service and they'll gladly bring you French trout roe or baeri royal caviar – on its own or with scrambled eggs or signature salmon dish Latke Royale – from on-site brunch institution, Sadelle's.
Would you buy the hotel if you could?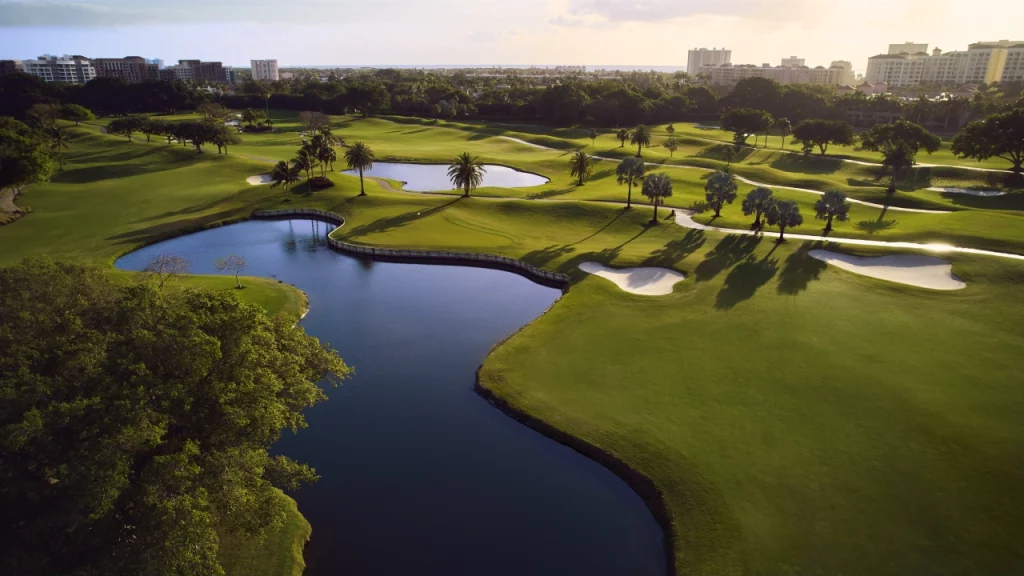 You might be tempted to, if only to eat every meal here. Our culinary recommendations – the Havana Cobb salad, a blend of roasted chicken, avocado, sweet mango at Harbor House; the beautifully textured sushi, fall-off-the-bone BBQ spare ribs, and multiple Wagyu beef options at Japanese Bocce Club; the handmade pasta with rock shrimp and calabrian tomato sauce at waterfront Italian eatery Principessa Ristorante – barely scratch the surface of the epicurean delights on offer here.
Outright acquisition though might be, shall we say, less than straight forward. Industrialist Arthur Vining Davis bought the property – based on his belief in its "inevitable increase in value" – back in 1956, at the age of 87, for $22.5 million (around £17 million), the largest ever real estate purchase in Florida at that time. Just shy of 70 years later, in 2019, tech billionaire Michael Dell paid The Blackstone Group $875 Million (around £670 million) for it, the transaction going down as the biggest in Palm Beach County history.
The Verdict
The refurb is smartly considered; the food options are off the chart; the staff are endlessly congenial… It'll be interesting to see what the next instalment of the rethink entails.
Rate: Rooms from $450 (£346) per night.
Score: 9.5
What Our Score Means:
1-3: Fire your travel agent if they suggest you stay here.
4-6: Solid if you're in a pinch—but only if you're in a pinch.
7-8: Very good. We'd stay here again and recommend it without qualms.
9-10: Forget booking a week. When can we move in permanently?