The Porsche Cayenne continues to age like fine wine.
The German luxury automaker just unveiled a new variant for the mid-size SUV called the Turbo E-Hybrid. The plug-in is easily the most powerful Cayenne yet, with over 700 horses lurking under the hood.
Any conversation about the Turbo E-Hybrid, which will replace the outgoing Turbo S E-Hybrid, has to start with its updated electrified power train. At the heart of the setup is an "extensively revised" twin-turbocharged 4.0-liter V-8 that produces a very impressive 591 hp. It's paired with an electric motor that can generate up to 174 hp on its own (which is 40 hp more than the one in the Turbo S E-Hybrid). Combine the two and output jumps to a maximum of 729 horses and 700 ft lobs of twist, easily besting the 670 hp and 633 ft lbs of torque produced by its predecessor.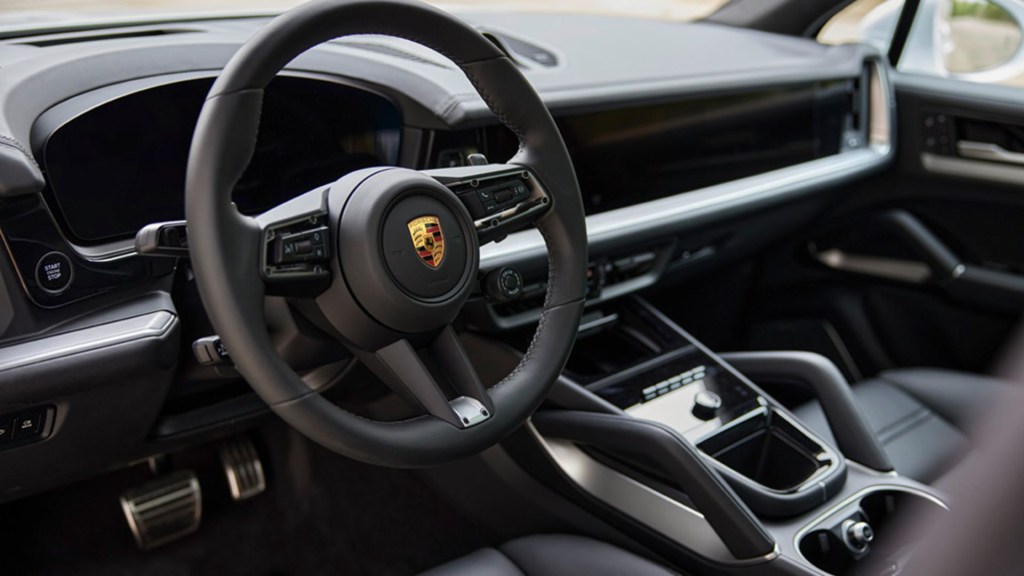 Porsche has always talked up the Cayenne as the sports car of SUVs, and the new variant lives up to the billing. The Turbo E-Hybrid can put up the kind of performance numbers one expects from the brand's most famous model, the 911. It can sprint from zero to 60 mph in 3.5 seconds and a top speed of 183 mph on a track when outfitted with summer tires.
The Turbo E-Hybrid also has a bigger battery than before (capacity has been nearly doubled to 25.9 kWh), meaning the vehicle will have a better electric-only drive range. No specific figure was announced, but Car and Driver guessed that the range would come in around 30 miles. The new battery can be fully charged in just two and a half hours thanks to an 11 kW onboard charger. Other intriguing features include an adaptive air suspension and Porsche Torque Vectoring Plus, both of which will give drivers more control over the added horsepower at their disposal.
The variant is available with either an SUV- or Coupe-style body. Both adopt the recently refreshed Cayennne's sleeker design cues, though the aggressive front fascia is all new. Other new details include body-color wheel arches, dual exhaust outlets, and red brake calipers. The interior cabin is much the same as the standard version of the SUV—including a 12.6-inch curved driver's display and 12.3-inch infotainment screen—though it does feature a GT Sport steering wheel, 18-way adjustable leather Sport seats, and a Race-Tex headliner.
Intrigued? Porsche is taking orders for the new Turbo E-Hybrid now. The standard version starts at $146,900 and the Coupe at $151,400. That's significantly more than the standard SUV's $79,200 starting price, but we don't imagine performance-minded fans of the brand's SUVs will mind.
Click here for more photos of the 2024 Porsche Cayenne Turbo E-Hybrid.