Bonhams brings its first UK auction for 2023 to the Goodwood Motor Circuit on April 16 with its Goodwood Members' Meeting sale. There, an enviable assortment of collector cars will span almost a century of automotive progress (from 1913 through 2010). Among those featured is arguably the most famous Austin-Healey in the world, the quintessential British sports car driven to victory in the challenging Liège-Rome-Liège Rally in 1960.
Affectionately called URX, a reference to its registration No. URX 727, the 1960 Austin-Healey 3000 Mark I BN7 made a name for the marque and for its drivers, who took the overall victory in a race considered by many to be the most difficult European rally of its day. Held from 1931 through 1971, the 96-hour, roughly 2,175-mile ordeal traversed winding and often treacherous mountain roads in Germany, Austria, Italy, and Yugoslavia. Of the 90 entrants in 1960, only 13 finished the event.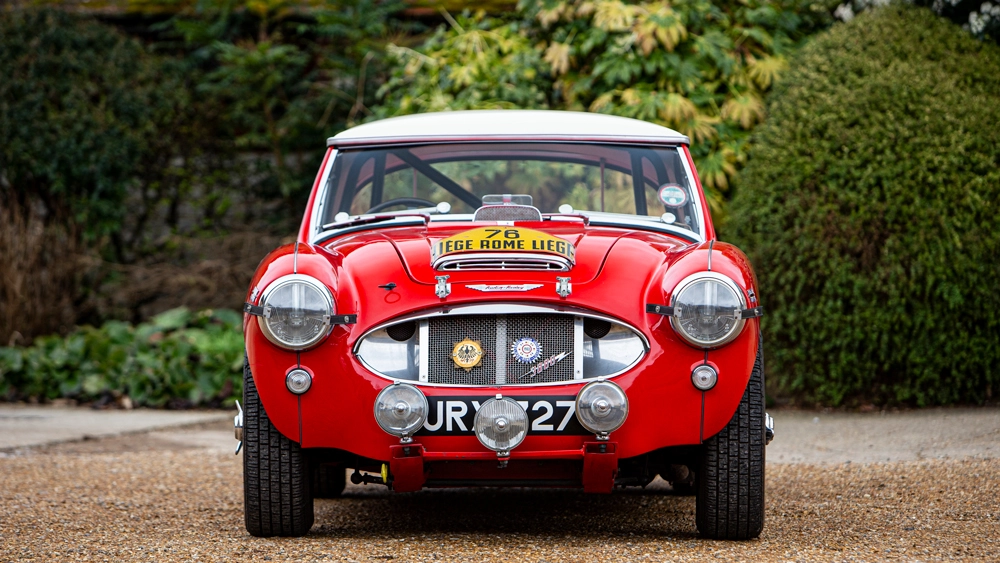 The winning team comprised Pat Moss, sister of legendary racer Stirling Moss, and her co-driver Ann Wisdom. Together, the pair were, according to Bonhams, "not only the first female crew to claim victory, but also the first British crew in a British car to take first place." Known as Mossie and Wizz, the duo braved the dangerous route and had the gearbox damaged—and replaced—during the race. Remarkably, Moss drove nearly 90 hours non-stop. Two other works Healeys came in second and third place, claiming a hat trick for the manufacturer.