Gill Schmid Design's latest expedition yacht concept was developed specifically for 007 obsessives.
Christened Synesthesia, the 213-foot newcomer is sturdy enough that it can tackle all manner of missions on the high seas but also doesn't skimp on lavish amenities.
"We are looking at an owner who likes the James Bond lifestyle, always seeking adventures at the highest level of comfort and luxury," the New York-based studio said in a statement.
Synesthesia's hardwearing steel hull is topped by a lightweight carbon-fiber monocoque superstructure with enough structural integrity that it can create a vast column-free interior. The vessel is brimming with nifty architectural features that will appeal to any gadget-obsessed M16 agents, too. For starters, the glazing within is completely retractable, with sliding doors and rotating glass elements that create a flowing open-plan layout and link the interior with the exterior.
The yacht is also equipped with a number of secret pop-up platforms and terraces. The touch-and-go helipad can be lifted up to create a striking party space, for example. A chopper isn't the only thing you can store onboard, either. The tender garage is capable of stowing a 33-foot limousine tender, a 33-foot RIB, and four Jet Skis. There is also a drone store on the main deck for tech-savvy spies.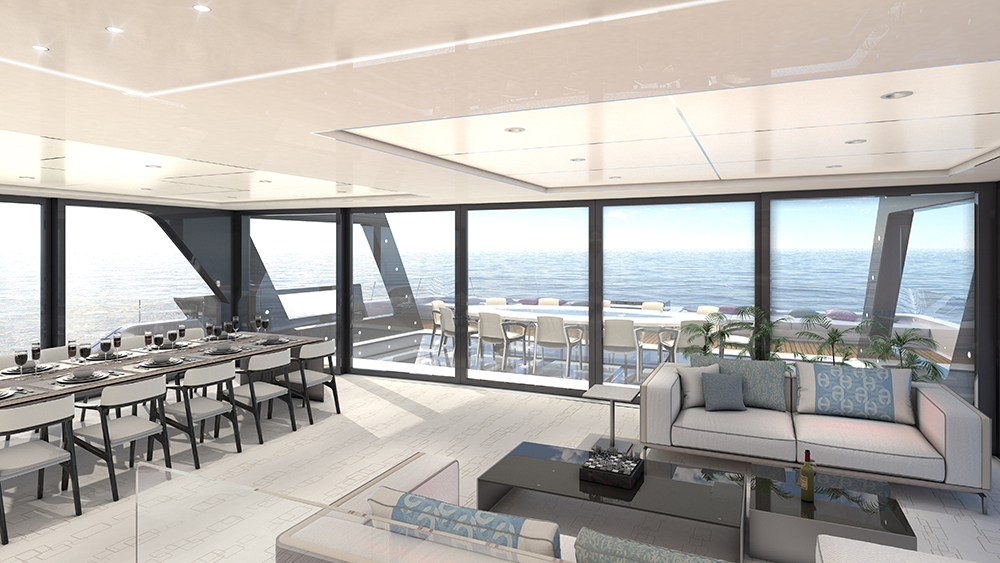 The living quarters center around a light and airy main salon and dining room that are geared toward entertaining. There is also an alfresco dining area on the bridge deck with a glass floor that overlooks the infinity pool and pool lounge below. It's the perfect place to enjoy a few Vesper Martinis—shaken, not stirred, of course. You can sleep it off in a lavish full-beam owner's suite, while your fellow agents can retire to one of six spacious guest cabins. The yacht also offers accommodation for up to 17 crew (or henchmen).
Another spot that is ripe for Vespers is the sundeck. The breezy, open-air oasis is home to a large alfresco dining space, loungers, and an infinity Jacuzzi. All that's missing is a femme fatale.
Click here to see all the photos of Synaesthesia.