Bring a Trailer isn't the only online automotive auction platform making waves these days.
A 2019 Ford GT Carbon Series looks set to become the most expensive car sold on the fledgling Cars & Bids. With three days left in the auction, bidding has already topped the site's previous high mark by over $200,000.
It's easy to see why the supercar is on the verge of setting a sales record for Doug DeMuro's enthusiast-centric platform. The second generation of the Detroit giant's Le Mans-inspired supercar is one of the most in-demand American vehicles in recent memory, due in no small to a production run of just 1,350 examples. Ford has released a number of special variants in that time, of which the Carbon Series is one of the more exclusive, according to Autoblog. No firm production number has ever been announced, but the automaker has said it was only able to build one example per week.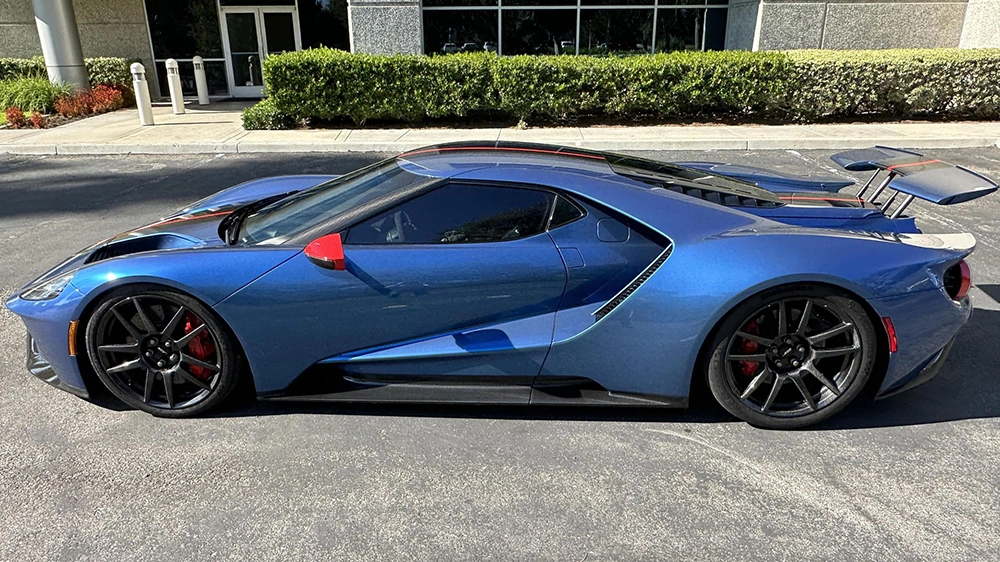 The GT Carbon Series made its debut at SEMA in 2018 and is the lightest version of the Blue Oval's supercar. It features a number of lightweight upgrades—including carbon-fiber wheels, a polycarbonate engine cover, and a titanium exhaust—that put its weight at nearly 40 pounds less than the standard GT. This particular example of the street-legal track monster is finished in Liquid Blue with carbon-fiber racing strips, and red accents. It also comes with two aftermarket additions: clear paint protection film on part of the body, and a hardwired Thinkware dashcam.
The GT that is being sold is also one of the rare up-for-grabs examples of the supercar that actually seems to have been enjoyed by its sole owner, who is said to be a friend of the ultra-popular car journalist. The vehicle has 10,000 miles on the odometer, according to the listing. The vehicle (and its 3.5-liter twin-turbocharged V-6) remain in good condition, though, and it has the Carfax report to prove it.