This marque's latest mean machine's V-8 produces 671 hp and 590 ft lbs of torque
It's not every day – or even every decade – that a top marque reveals a new genre of vehicle: but that's what Aston Martin did, when unveiling the brand-new DB12 during a star-studded event at the Cannes International Film Festival on Wednesday night. "The world's first super tourer, the British marque insists, is more – much more – than just another grand tourer in the mold of its immediate predecessor, the DB11.
The DB12's design tweaks and refines, rather than reimagines, the outgoing DB11, incorporating elements from that car's imperious stablemate, the DBS: think larger grille, revised splitter, more sculpted lines, frameless side mirrors and flush door handles. The results are both sleeker and sportier than the vehicle's predecessor, and more than qualify it the be the first car to sport the marque's redesigned winged logo.
Inside, the driver-centric space, bathed in Alcantara leather, is more refined and more comfortable that that of the car it succeeds. A new centre console features a new 10.3-inch infotainment system – developed entirely in-house – which boasts Apple CarPlay and Android Auto, both of which intergrate smoothly nicely with the brand's new smartphone app (expect over-the-air updates, naturally). The automaker's Q bespoke division will customise the space further with typical zeal.
Some brand enthusiasts might lament that, unlike the DB11, the DB12 will not be available with a V-12: they needn't though. The revised twin-turbocharged 4.0-liter V-8 – again sourced form Mercedes-AMG – does have has more than enough dynamism: to the tune of 671 horses and 590 ft lbs of twist. This is in part to larger turbos and various other modifications, which make the engine more powerful than DB11's V-8 (528 hp and 513 ft lbs of torque) and its V-12 (630 hp and 516 ft lbs of torque). Aston Martin says the DB12 propels itself from zero to 60 mph in 3.5 seconds and has a top speed of just over 200 mph. Hence, this being "a super tourer".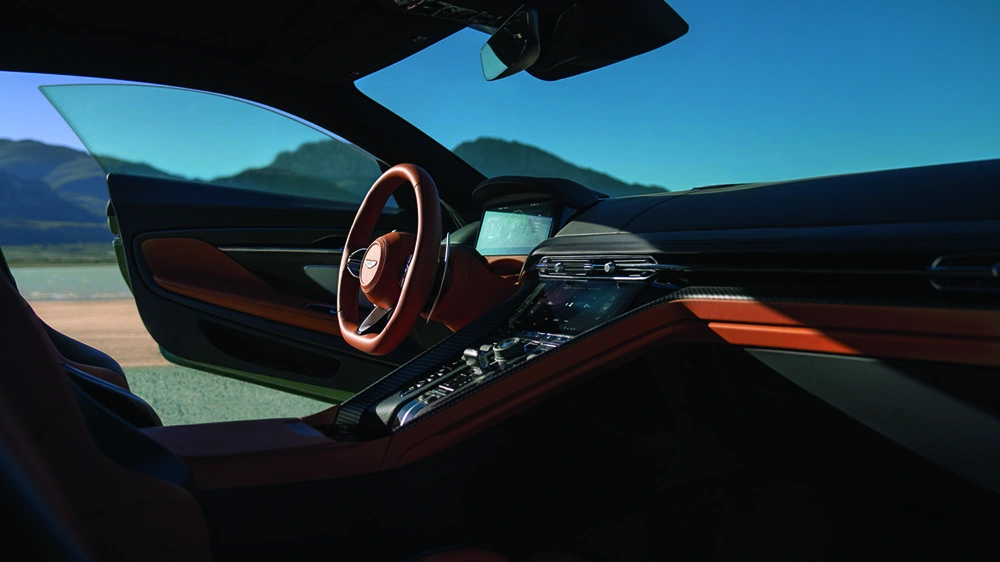 A smoother ride is afforded by a new suspension system with next-gen adaptive dampers and firmer anti-roll bars. Meanwhile, buyers are offered three drive modes – GT, Sport and Sport+: each more responsive and stiffer than their predecesors.
Deliveries of the DB12 are expected to begin in the third quarter of this year. Car and Driver has speculated that it could start at around €225,000, which is around €37,000 more than the V-8 DB11. Available only as a coupé at launch, a convertible Volante version is expected to follow hot on its heels.
Click here for more photos of the Aston Martin DB12.