Lewis Chester DipWSET, founder of the Golden Vines®, discloses the global stars of the fine wine, spirits and luxury realms who attended the three-day event in Paris.
It's incredible what a small team of three people, plus a number of extremely motivated and talented part-time and unpaid professionals, can accomplish for the love of fine wine and the charitable cause of helping young people, from diverse backgrounds, to enter the wine, spirit and hospitality industry.
The 2023 Golden Vines® Awards were held in Paris from 13th-15th October (see video here). Significantly more than £5 million of fine wine and rare spirit were served at 24 events over the course of three days, including two Gala dinners, eight Masterclasses, seven fine wine lunches and six experiences, including a La Paulée BYO lunch where hundreds of fine wine bottles were brought and shared by the guests.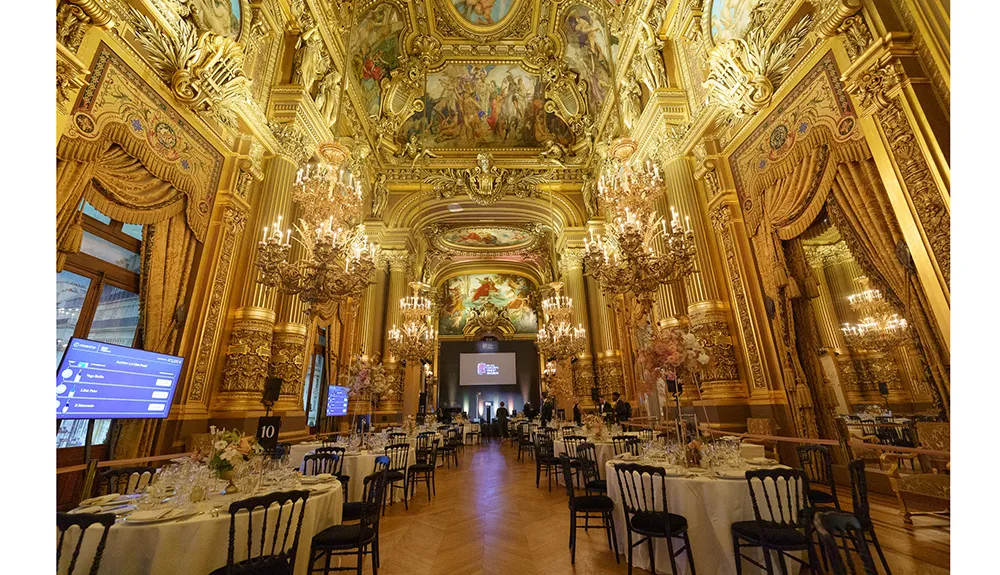 More than 250 guests attended the two gala dinners, with each guest having access to VIP concierge services provided by Knightsbridge Circle. There was an equal number of production, catering, service staff and sommeliers required to host them. Thousands of Riedel glasses were required for the wine and spirit service, with a team of 23 sommeliers on each night impeccably serving more than 1,300 bottles in accordance with the temperature, as well as the opening and service instructions of each wine estate, under the guidance of wine director Clement Robert MS and Head Sommelier Marc Almert.
What has quickly become the world's most important and spectacular fine wine event saw a sensational gathering of global epicureans, famous faces and protagonists from the most acclaimed wine, spirits and luxury brands globally at the beautiful Opéra Garnier for the 2023 Golden Vines® Awards Ceremony & Dinner. Fifty winemakers and distillers were present during the course of the weekend, whether as guests, donors of wines and spirit, winners of the awards or participants in the masterclasses, lunches and experiences.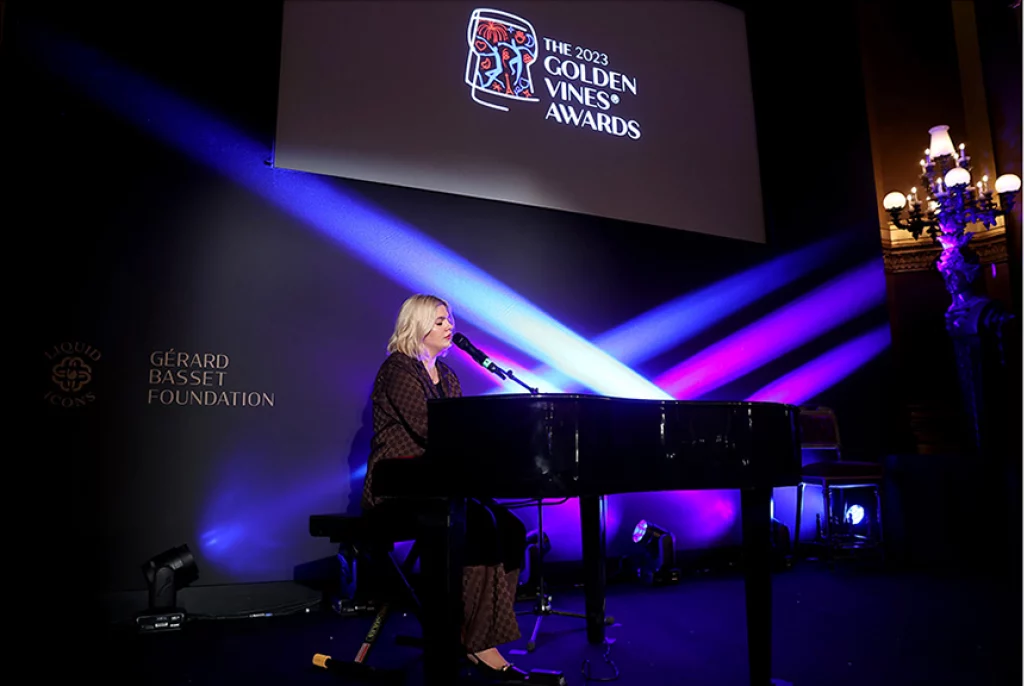 Marking the finale of this year's Golden Vines® Three-Day Fine Dining and Wines Experience from 13-15 October which also featured a charity gala on the Friday hosted by Ronan and Storm Keating in benefit of the Gérard Basset Foundation, the 'Oscars-style' 2023 Golden Vines® Awards Ceremony & Dinner recognised the star performers of the fine wine & spirits industry, as voted by 1,000 fine wine professionals from 120 countries with the results independently verified by Deloitte LLP.
French TV presenter Raphaële Marchal hosted the awards evening, organised by Liquid Icons – the fine wine research and content production company founded by myself, Lewis Chester – a fine wine & spirits collector – as well as Sasha Lushnikov and the late, great sommelier Gérard Basset OBE MW MS.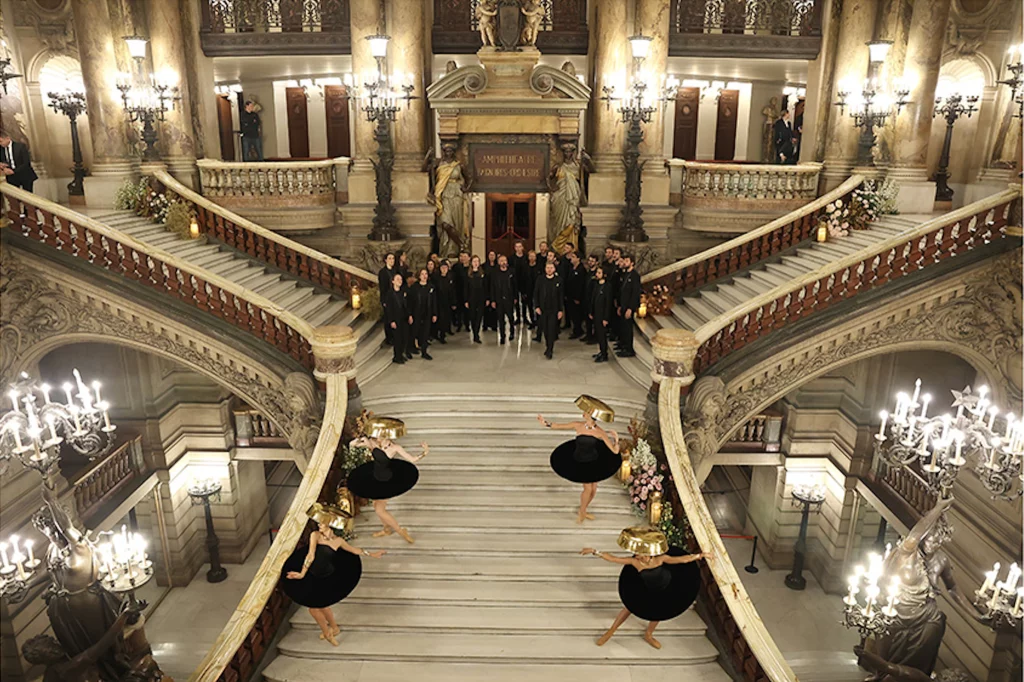 Guests were treated to culinary creations from three Michelin-star chef Alain Ducasse and two Michelin-star Akrame Benallal, paired with exceptional wines including 2009 Dom Pérignon Rosé, 2004 Dom Pérignon P2, 2015 Château d'Yquem, 2013 Domaine Arnoux-Lachaux Echézeaux Grand Cru, 2007 Liber Pater, 2006 Istvan Szepsy 6-Puttonyos and an exclusive blend of old Camus Cognac. Headline entertainment was provided by rising star (she supported both Sam Smith and Ed Sheeran on their recent tours) and three-time BRIT nominee Cat Burns, as well as acclaimed French chanteuse Louane.
This year, three nominees became All-Star Winners in their category, having won the Award for the third time in as many years: Domaine de la Romanée Conti for The 2023 Robb Report Golden Vines® World's Best Producer Award; Ridge Vineyards for The 2023 Golden Vines® Best Fine Wine Producer in the Americas Award; and Penfolds for The 2023 Golden Vines® Best Fine Wine Producer in the Rest of the World Award.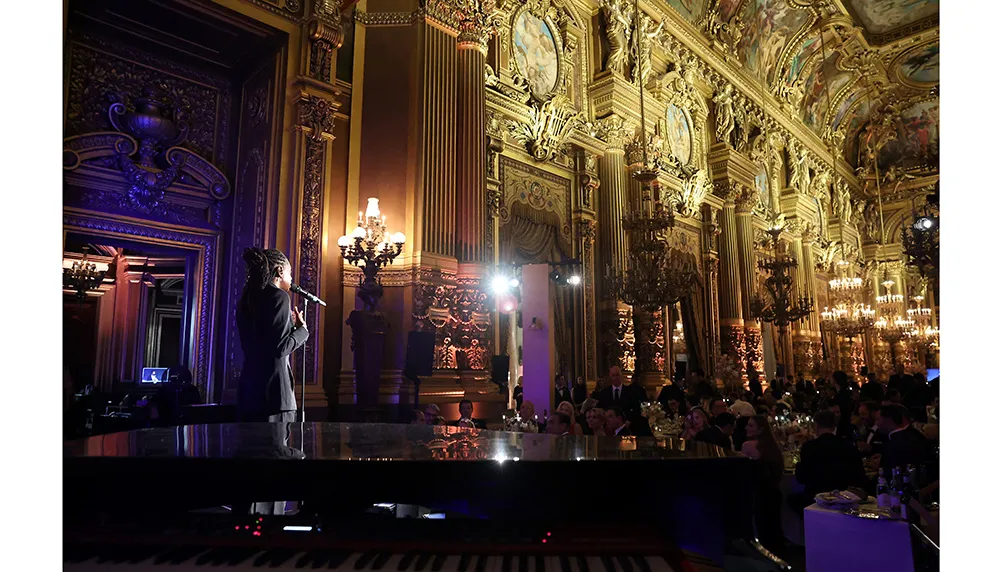 Winners of other categories were: Weingut Egon Müller of Germany for The 2023 Golden Vines® Best Fine Wine Producer in Europe Award; The Sadie Family Wines of South Africa for The 2023 VistaJet Golden Vines® World's Best Rising Star Award; Emidio Pepe of Italy for The 2023 Gucci Golden Vines® Sustainability Award; University of California Davis Department of Viticulture & Enology for The 2023 Casa Ferreirinha Golden Vines® Innovation Award; and The Macallan for the newly inaugurated 2023 Golden Vines® World Best Rare Spirit Brand Award. Finally, The 2023 Golden Vines® Hall of Fame Award was awarded to the legendary Jancis Robinson OBE MW for her services to the wine industry.
Each winner received a trophy, housed in a specially-created and produced trunk by Golden Vines® sponsor Gucci, designed by British visual artist and Golden Vines® Creative Director Shantell Martin and crafted by Amorim Cork, featuring 2023 commissioned artwork by French artist Jonathan Bréchignac.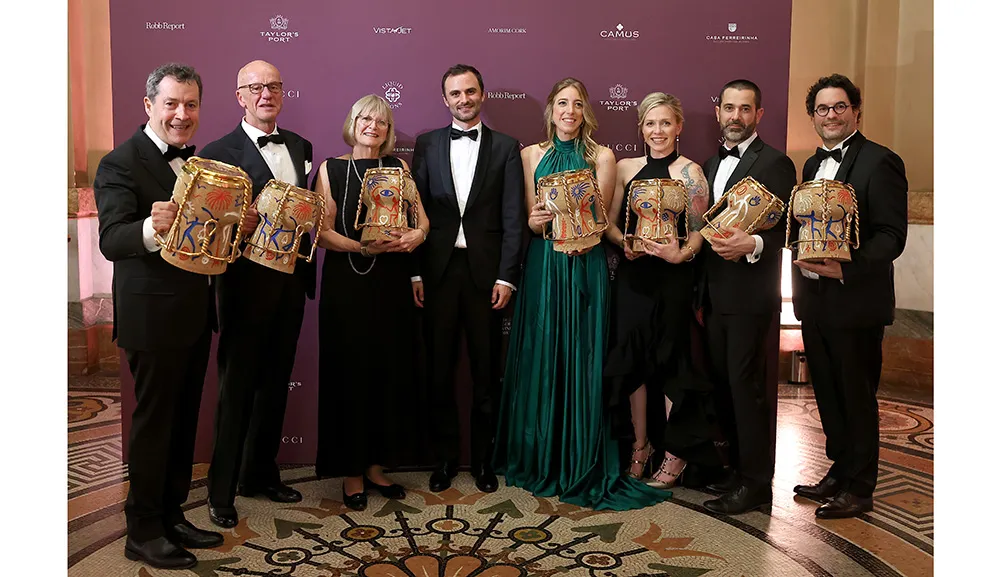 As a formal handover at the end of the dinner, Alain Ducasse and Akrame Benellal presented the Golden Vines® Baton to Spanish three-Michelin Star chef Joan Roca of El Cellar de Can Roca, who will be curating the gastronomic menu at the 2024 Golden Vines® Awards in Madrid. The waiting list to purchase tickets for The 2024 Golden Vines® in Madrid, Spain is open now.
The previous night's Dress To Party charity gala at Les Pavillons De Bercy saw the presentation of awards of a different kind—this time for diversity and inclusivity scholarships. Sachindi Rana from New Zealand, Eduardo Bolaños from the United States and Amrita Singh from Canada were officially awarded their 2023 Taylor's Port Golden Vines® Diversity Scholarships worth £55,000 each. Arpine Manukyan from Armenia also received her 2023 Dom Pérignon Golden Vines® MW Scholarship including an incredible four-week paid internship at the Maison working alongside the winemaking team and an educational grant to undertake her Master of Wine (MW) qualification.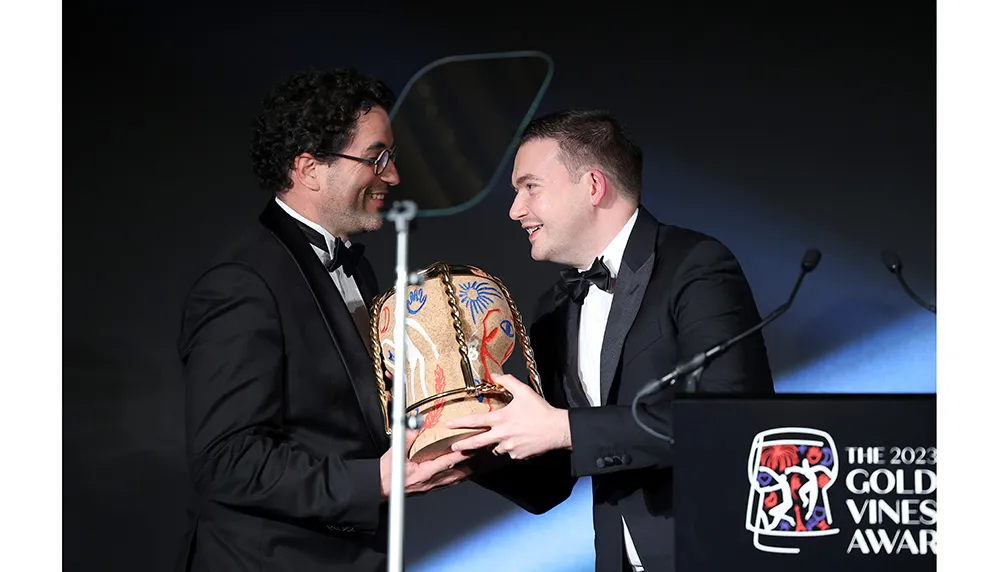 The Charity Gala featured the Sotheby's Golden Vines Live Auction which, together with an online auction, raised just under $1 million for the Gérard Basset Foundation. The Foundation awards grants and scholarships focused around diversity and inclusion-related education programmes in the wine, spirit and hospitality sectors. Wines served included Krug Grande Cuvée, 2004 Krug Vintage, IWA Sake Reserves, 1995 Harlan Estate, and a specially crafted Taylor's Port 50 year old Tawny produced for the event.
Alongside the two gala dinners, the three-day extravaganza featured eight masterclasses from the likes of Domaine Leflaive, Domaine Arnoux-Lachaux, Domaine Jean-Yves Bizot, Domaine Vincent Dancer, Dom Pérignon, Salon Champagne, Luca Roagna, Ornellaia, Biondi-Santi, Il Marroneto, Emidio Pepe and many others. There were also eight lunches to attend, hosted by Château Latour, Château Cos d'Estournel, Krug, Boërl & Kroff Champagne, Egon Müller, Domaine Thibault Liger-Belair, Domaine Duroché, Domaine Bernard Moreau and others. Finally, there were six 'money can't buy' experiences on offer including day trips to Dom Pérignon and Maison Ruinart, a cognac and cigars event hosted by Cyril Camus at his private Parisian apartment, and a La Paulée BYO lunch at the Bulgari Hotel sponsored by Crurated. In all, more than 50 winemakers took part in this year's Golden Vines® Awards.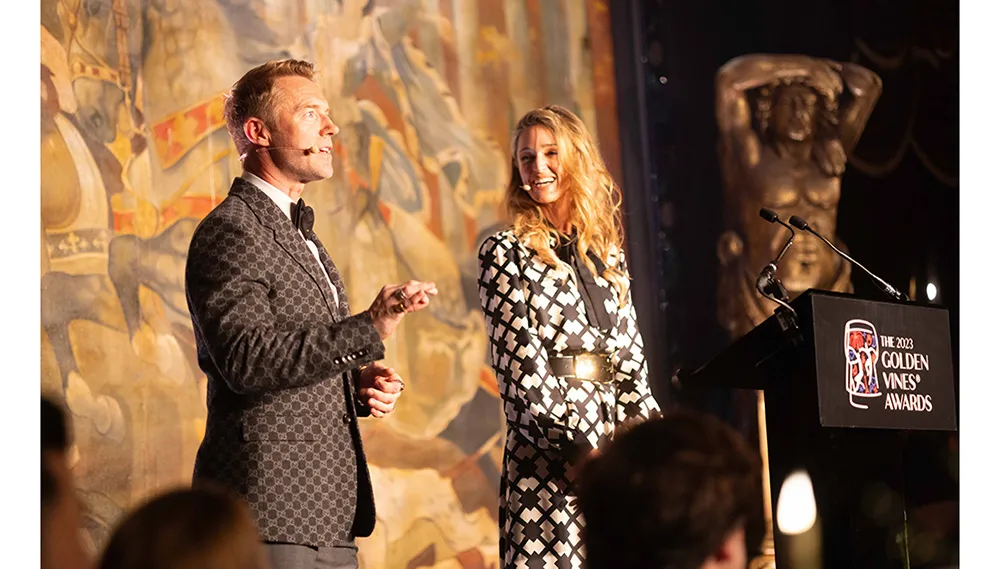 The 2024 Golden Vines® Awards will take place in Madrid in late October 2024. As with 2021 London, 2022 Florence and 2023 Paris, Madrid will feature many of the world's best fine wines and rare spirits over three days, including a Charity Gala and the Awards Gala.
The waiting list to purchase tickets for The 2024 Golden Vines® in Madrid, Spain is open now.